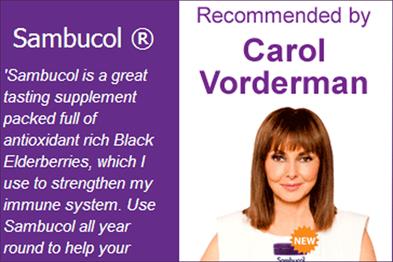 Sambucol, the-over-the-counter immune system supplement, is launching a marketing campaign featuring brand ambassador Carol Vorderman, to coincide with the flu season.
Carol Vorderman: fronts latest Sambucol ad campaign
The campaign, created by Koala Ltd, breaks on Tuesday (22 November) and features a TV ad for the PharmaCare Europe-owned brand, supported by press activity. Media buying is handled by AdConnection.
The TV ad promotes Sambucol as a natural food supplement for the entire family, highlighting ingredients such as antioxidants and black elderberries.
The ad uses brand ambassador Carol Vorderman and ends with the line: "Recommended by Carol Vorderman."
Lisa Harrison, brand manager, VMS at PharmaCare Europe Ltd, said: "Sambucol is not only an effective immune system booster, it also tastes great, which is why it's a fantastic supplement for all family members
"Carol Vorderman is a strong brand ambassador and has once again provided her endorsement of the Sambucol range. AdConnection's media strategy is spot on for our target – reaching them in the right places at the right time."