James Ellington, currently the second-fastest sprinter in England and an Olympic hopeful, has been forced to put himself on eBay to find a sponsorship deal to allow him to compete in next year's Olympics.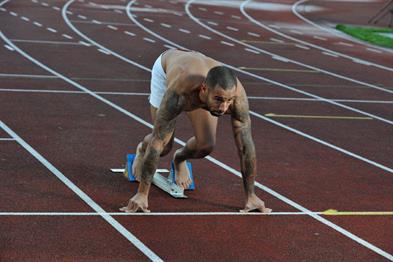 James Ellington: sprinter has put himself on eBay to seek Olympics sponsorship
Known as "the only top sprinter without a sponsor", Ellington has a personal best time in the 200m of 20.52 seconds.
The 100m and 200m relay sprinter has put himself on the auction site to find a commercial sponsor to allow him to commit to training full time and compete for a place in Team GB, the UK's team at next year's Olympics.
Ellington has represented the UK at the World Championships in Korea and was part of the GB relay team at the 2011 European Team Championships.
He has put himself on eBay with a reserve price of £30,000, which would cover living costs, expenses and wages.
In return, Ellington said he would wear the sponsor's branded kit at "every possible opportunity, where appropriate", including training and press events, until the end of the London 2012 Games.
The athlete lost pace as a competitive sprinter after he suffered serious injury.
He receives funding from the UK Athletics World Class programme to help with everyday expenses and medical bills, but is keen for long-term commercial sponsorship to make him a competitive runner.
Ellington works as a coach to support young athletes and under-privileged children in South East London.